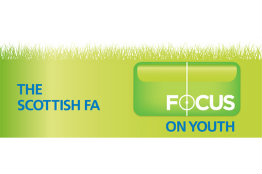 Through the many grassroots programmes delivered within the South West Region we are determined to ensure that grassroots football continues to grow year on year which in turn will contribute to Scotland winning and lifelong participation for all in football. In order to achieve this we need to know who is playing football, where they play and who supports them.
To this end we are conducting a "Focus on Youth" census of football participation in the small sided game.
Please find attached an electronic copy of the A3 registration form.(FORMS ARE IN "LEAGUE DOCUMENTS" SECTION) We would be grateful if you could complete along with all coaches/volunteers and players details, including parental signature(s) and return to the Scottish FA South West Region by using the following Freepost address:
FAO Scottish FA South West Region
c/o North Ayrshire Leisure Ltd
FREEPOST SCO5659
IRVINE
KA12 0BR
On this form there is space for 20 player's names and if for instance you have 18 players training but only enter 2 x 4 a-side teams we would still look for details of all 18 players. If you have more than 20 players, feel free to photocopy the form or contact us and we will supply more.
There is also an A4 Individual player registration form attached which can be copied and used to capture signatures from parents who may not attend training and games as regularly. These can also be returned at the same time as the A3 form.
We will then collate the information and present the findings in January. Performing the census will allow us to paint a picture of football participation, identify gaps in provision, map facility needs, and demonstrate the value of our volunteers and so on. It will also allow us to communicate with volunteers, footballers and coaches and share news, information on events and best practice.
If you have any queries regarding the "Focus on Youth" census please contact the Regional office on 01294 317430.
We thank you in advance for taking the time to complete this form and look forward to continue to work with you in the future.
Kind regards,

JOHN BROWN
SFA Regional Manager
(South West)
Office: 01294 317430
Mobile: 07918 035 836
Regional Mailing Address:
C/O The Magnum Leisure Centre, Irvine, KA12 8PP