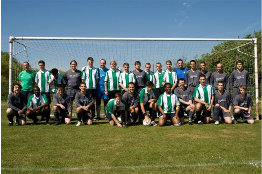 The Southend Church Football League was founded in 2008, as a way of bringing together a number of local churches who had for years previously competed against one another only in ad-hoc friendlies.
The first season of the SCFL saw four teams enter the competition. Christ Church Plaza FC, Rayleigh Baptist Church FC, Southend Vineyard FC and WBCFC from Westcliff Baptist Church played each other four times as they battled to become the inaugural league champions. In the end, two-times National Christian Football Champions, WBCFC, came out on top, winning the league by six points from CCP.
The second season of the SCFL saw the league grow to seven teams, with the original four being joined by LRBC FC from Leigh Road Baptist Church, Rochford Congregational Church FC and Shoebury Baptist Church FC. The three new teams struggled to match their more experienced opponents and occupied the three bottom spots at the end of the season. WBCFC were again crowned as champions having steam-rollered their way to nine victories in twelve league games.
The SCFL Cup was also established in the 2008/9 season and had seven entrants, divided into two groups. LRBC FC enjoyed a fine cup run, despite not being league members, to top their group and eventually qualify for the final, where they faced league champions WBCFC. The league and cup double was secured by WBCFC with a 6-1 thrashing of the Leigh Road team.
The 2009/10 SCFL CUp Tournament was contested as a 5-a-side event, enterred by all the SCFL teams. This format suited CCP and it was they who wrestled the SCFL Cup away from WBCFC.
The SCFL will again have seven member teams for the 2010/11 season.