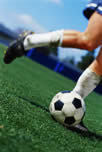 Shetland Junior Football Association are hosting their inaugural Soccer School weekend on Saturday 2nd and Sunday 3rd of May 2009. In previous years, Ross County have delivered an 'Easter Football Camp' but the number, standard and enthusiasm of coaches here in Shetland puts us in a perfect position to provide a weekend of football which could surpass that which has gone before.

First and foremost this will be a fantastic weekend of football and enjoyment for the young footballers in Shetland. Needless to say, the weekend will also provide an opportunity for experienced coaches to share ideas, newly qualified coaches to assist in delivering the sessions and parents to help out and simply witness what the SJFA is providing for their children. The weekend will be a major fundraising event for the SJFA and will help raise the profile and brand of the SJFA through free merchandise for children being supplied through the SIC Sport and Leisure Service.

A sub-group has been set up to organise the event and we have produced a framework for the weekend. Whilst the exact arrangements of the event are still being discussed the main concepts of the weekend are as follows.

Venue


Clickimin Centre

Juvenile, Hockey, South Pitches

Dates


Children come Saturday 2 May and come back again on Sunday 3 May

Coaches


Level 3 and Level 2 coaches leading with support from Level 1 and interested club officials, parents and helpers

Age Groups

U6


10.00 – 11.30am

U8


10.00 – 11.30am

U10


12.00 – 1.30pm

U12 and U14

combined


2.00 – 4.30pm

Cost for whole weekend


£6 U6, 8, 10

£12 U12, 14 (tbc)

Merchandise


T-Shirts or Ball or Water Bottle (tbc) with SJFA branding

Other


Goalkeeping coaching

U6s must be at school