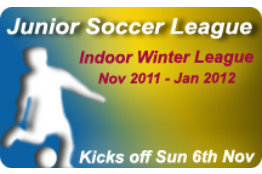 JSL would like to invite teams within the U6s-U9s age group (2011/12 season) to join us in another national first for a mini soccer league…… This time, an indoor winter league, again based on the development focused 4v4 format of the game.
The idea to put together an indoor winter league has been evolving for a while now. Months of development work and research means that we are now confident that we have come up with the very best offering, not only and most importantly in terms of a child's football development, but also one that fits around modern family lifestyles, as well as not conflicting with a child's existing football commitments.
We will continue with the two games per match day format as we firmly believe that this provides a team with so many benefits. This will restrict the capacity, so please register your interest as soon as possible to avoid disappointment. Our view is that it's better to provide a superb experience to a few, rather than a mediocre experience to many. That said, we are still looking to host 32 teams!
Details of JSL's upcoming indoor winter league, which will begin on Sunday 6th November 2011 are detailed below.
JSL 4v4 Winter League 2011
Age Group: U6s, U7s, U8s, U9s
Format: U6s/U7s 4v4 (fly goalkeeper) U8s,9s 4v4+ GK (5 players/team)
Location: Soccer Village, Milnrow, Lancs, OL16 3TW, 2 mins from J21, M62
Surface: 3G
Dates: 6th Nov 2011 – 29th Jan 2012
Match days: Sundays (9 am – 1pm) – Timings for each age group T.B.C.
Playing Time: U6s/7s 18 mins/game, U8s/9s 26 mins/game
(2 games/team each week)
Costs: Team Registration Fee: £20 U6s/7s, £25 U8s/9s (One off cost)
Player Registration Fee: £3/each (One off cost)
Match Fees: U6s/7s £15 per team per week (Total playing time 36 mins)
U8/9s £18 per team per week (Total playing time 52 mins)
Age Group Eligibility: (As per 2011/2012 season)
To reserve your teams place please send us an e-mail via the "Contact us" button on the navigation menu to the left of the screen or T: 0161 620 9201 for further information