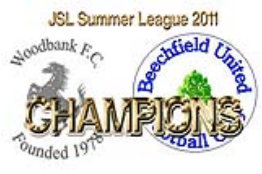 In the competitive age groups of U8s & U9s, it is Beechfield United (U8s) and Woodbank FC (U9s) who have finished on top of the pile.
Both teams have played superb football en route to winning the league champions title. They've needed to as the teams around them pushed them all the way.
On we go now into the month of August, which sees a unique and exciting play off stage introduced, which gives all teams the chance to compete for the biggest prize of the summer season.... JSL 2011 Summer League Grand Final Winners...
It promises to be a cracker with each tie being played over two legs in such close and competitive divisions.
Beechfield United and Woodbank will start as favourites for very good reasons, but this promises to be a hugely exciting, well contested end to a superb summer season....