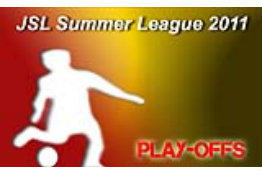 An end of season play-off system with a few twists and turns will be used to determine the 2011 U8s & U9s JSL Summer League Champions.
This exciting format has been structured to enable all managers, parents & players to keep an interest in the summer league competition all season long, even if results aren't going their way.
League position at the end of the season dictates the route you have to take if you are to successfully get to the final. In theory, the higher up the league you finish the easier it is to reach the final. That's not always the case though & it gives an incentive for the teams who have perhaps had a good end of season run to go on & lift the Champions Trophy.
Please click here to see a diagram of how the play-off competition will be structured. A worded explanation is provided below:
Week 1
Four matches will take place on Week One, effectively in two pools: the Qualifying Play-offs and the Elimination Play-offs
Qualifying Play-Offs
These matches involve the teams who finish in the top four. They are:
1st v 4th 2nd v 3rd
The winners of these two games will progress directly to Week 3. The highest ranked winning club will have Team Call, whereby they choose their opponents in Week 3
The losers of these two matches will have another chance in Week 2 when they will play the winners of the Week 1 Elimination Play-Offs.
Elimination Play-Offs
5th v 8th 6th v 7th
• The winners of both matches will progress to Week 2, losers are eliminated.
Week 2
There are two matches in Week 2, called the Preliminary Semi-finals.
Preliminary Semi-Final One
Highest ranked Qualifying Play-off Loser v Lowest ranked Elimination Play-off Winner
• Winners to Team Call • Loser eliminated
Preliminary Semi-Final Two
Lowest ranked Qualifying Play-off Loser v Highest ranked Elimination Play-off Winner
• Winners to Team Call • Loser eliminated
Team Call
Team Call will take place on the second weekend of the play-offs and will be chosen by the highest ranked winning club from Week 1.
The "No.1 team" will select who they play in Week 3 and can only select from the winners of the two Preliminary Semi-finals (Week 2) – they cannot choose the other Qualifying Play-offs winner.
Week 3
Two matches again, losers eliminated from each, winners go through to contest the JSL Summer League Final.
Qualifying Semi-Final One Highest ranked QPO Winner v Team Call selected PSF winner
Qualifying Semi-Final Two Second ranked QPO Winner v Team Call Non Selected PSF Winner
Week 4
JSL Summer League Final.