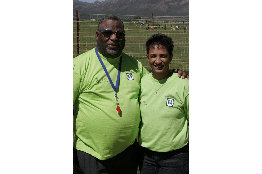 Helderberg Christian Sports League
The league (previously known as Helderberg Church Soccer League) was formally launched and opened by Cllr Grant Haskin of Cape Town in his capacity as Mayoral Committee Member: Sport & Amenities on the 31st March 2007.
At our presentation awards in December 2007, this was not only the highlight of the players and role players involved, but also for those who witnessed the leagues humble beginnings. As the theme LOOK WHAT THE LORD HAS DONE, so appropriately converse, others can surely bear witness of the transformation in the players' lives.
The League is based on Christian Principals and respected by its membership.
The league is the initiative of the Strand Christian Leaders Network who operates with other fraternals and youth leaders in the communities of Strand, Somerset West / Garden Village, Vergelegen Farm, Macassar, Firgrove, Sir Lowry Pass, Lwandle, Nomzamo, Chris Nissen Park, Eerste River, Khayelitsha, Blue Downs and Malibu Village. We also have Drakenstein Prison, Paarl whose juveniles play in our league.
The objective of Helderberg Christian Sports League (HCSL) is to develop and promote a vital and exciting sports program within the Helderberg. This will be accomplished through programs designed to educate players, parents and coaches about all the sport codes. These programs will provide the opportunity for training and play for all interested participants and shall be designed to develop individual skills, fitness, teamwork and sportsmanship.
The aims of this League shall also be to develop young people up to a level of role-modelling in the community; develop their relationships on the basis of four principles: relationship with their parents, with authorities, with their education and with God.
The purposes of the League shall also be to foster and develop all sport codes within the District of Mission; to promote sportsmanship and increase the knowledge, skill and proficiency of its membership in all aspects of sport; and to cooperate within and without the District of Mission with any person, body, or otherwise whose interests may serve the residents of the community in any athletic endeavour.
Since the launch the league has been actively involved in community projects such as Aids & Drug awareness programs held in the Helderberg.
We are also involved with the Christian Community Developers in the Helderberg basin, where we work together to serve our communities better.
We are partnering with Sports Ministry Partnership South Africa (SMPSA) and Ambassadors in Sport (AIS). Our coaches receive training from Ubabalo eAfrica 2010 where they attend a Leadership and Life Skills Program. We are also involved with South African Sports Coalition (SASC) and Helderberg Transformation Network. On the 27th February 2008 we were instrumental in formulating and serve on the committee of the South African Christian Football Association (SACFA).
Strand Renewal Ministries under the leadership of Pastor Maans Jumat was also chosen as the Pilot church for the Ubabalo e Africa 2010 initiative. With this initiative and partnership with other organizations the church is capturing the golden opportunity to transform the future generations of the Helderberg Basin.
Our goal is to carry out God's vision with his provision for the League.
We witnessed that there was a seed of God's love in every event we undertook and every unpleasant situation we faced.
By being involved with our communities through sport we have discovered that Sport has the power to:
Change lives
Bridge ethnic, cultural, ideological barriers
Develop people holistically
Combat HIV and Aids, poverty, violence, etc.
Transform Communities!
Shape the future of nations.
The life of young people has changed for the better because of mentoring relationships which they are involved in.

Parents came forward and shared with us how the sports have helped their children and how circumstances in their households and families have changed since the children got involved in sports. We gave the parents an opportunity to share their testimonies at an event held by the Helderberg Transformation Network, after which we were contacted by Heartlines Youth Mentoring Campaign. They wish to sensitize the nation to the concept of mentoring and its power to bring about change. Our submissions will be reviewed by a panel and the most compelling stories will be selected for radio and television.
The purpose of this initiative is to inspire and support individuals in "doing good" by putting a positive media spotlight on good things that are happening in the Helderberg and our country. While we do not wish to minimize the very serious challenges faced in the Helderberg today, we believe that people can be motivated to action if they feel that they are not alone in their desire to do something positive.
Currently we have 25 soccer clubs and 9 netball clubs registered with the league and 1000 young players enrolled from the age of 7 to 35 years.
As community workers of our respective areas, we have the same vision to see our children and young people off the street and we are doing everything in our power to see that sports become part of their rehabilitation. A child on the sports field is a child off drugs, the streets and crime - and out of the court!
Our main focus is sport, education, social and health care. Our clubs and players are carriers of HOPE…
Thank you for your time and we appreciate your input in our successful initiative.
Yours sincerely,
Pastor Maans Jumat
President
Telephone/Fax: 021 845 6920 | Cell 078 7444 525
admin - spencer courtis | C: 078 250 1665 | W/H: 021 531 3857